NEW:

ParaglidingSpots,

Online Version
Additionally to the download version for Google Earth, you can now also try to find takeoffs and landing zones online.
The online version incorporates many filtering tools – please try them out,
and send your feedback to
info@paraglidingspots.com
to improve it quickly.
There is still a lot to do, e.g. in Europe, filtering by takeoff ratings is not yet possible for Sweden, Switzerland, Serbia, Spain, Czech Republick, Turkey, Ukraine, Hungary, Belarus and Cyprus).
Click to access the online version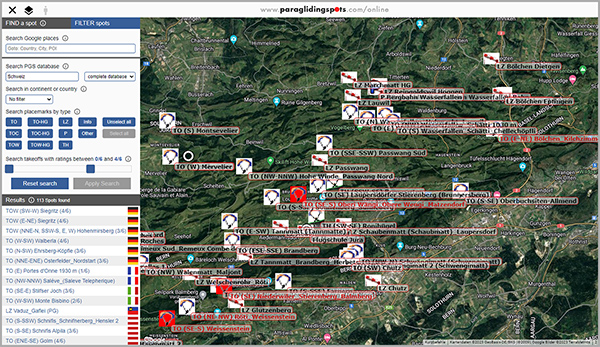 Screenshot of PGS Online with the search mask open
Screenshot from PGS Online with a detailed view of a spot
29.03.2022
Database Vs. 2.02 more...
21.04.2021
Database Vs. 2.01 more...
17.07.2020
Database Vs. 2.00 more...
22.05.2018
Database Vs. 1.60,
Large Update for Japan more...
06.05.2018
Database Vs. 1.59,
Large Update for Russia more...
05.04.2018
Database Vs. 1.58,
Large Update for Romania more...
06.03.2018
Database Vs. 1.57,
Large Update for Poland more...
12.02.2018
Database Vs. 1.56,
Large Update for the Azores and Madeira more...
29.01.2018
Database Vs. 1.55,
Large Update for Austria and Portugal more...
06.10.2014
The date of the last database update for a country is now added to the list in the selective download section.
22.06.2012
SELECTIVE download possible now more...
Further news ...